Disclaimer: I was given four admission tickets by Busch Gardens, free of charge in exchange for this review through their partnership with MomCentral.  All opinions are mine based on my experience. I was not compensated monetarily for this review.
Visiting Busch Gardens was part of our "summer fun" bucket list.  We decided to go yesterday despite the light rain in the morning.  The weather forecast had indicated scattered showers, but really its August in Florida, which means afternoon showers are a given.  As we got closer to Tampa, the rain seemed to get a bit stronger, but we were determined and we were not turning around.   Once we got to the park, the rain had stopped and blue skies were all around us!  We decided to pay the extra $5 for preferred parking just in case we had to leave the park in a hurry due to inclement weather.  Coming to the park, I had not printed my tickets, so I went to the window and showed my email ticket confirmation to the attendant.  She instructed me to head directly to the entrance where the tickets could be scanned directly from my phone. I'm so used to having paper tickets, and then having to carry them all day.  I was very happy I wouldn't have to do that today.
Yep, it was that easy.  Just place your phone below the scanner and poof!  You are in.  That's your ticket.  As soon as we passed the turnstiles we got our little paper maps.  The girls just love looking at them and "planning" their visit.  However, did you know Busch Gardens has their own app?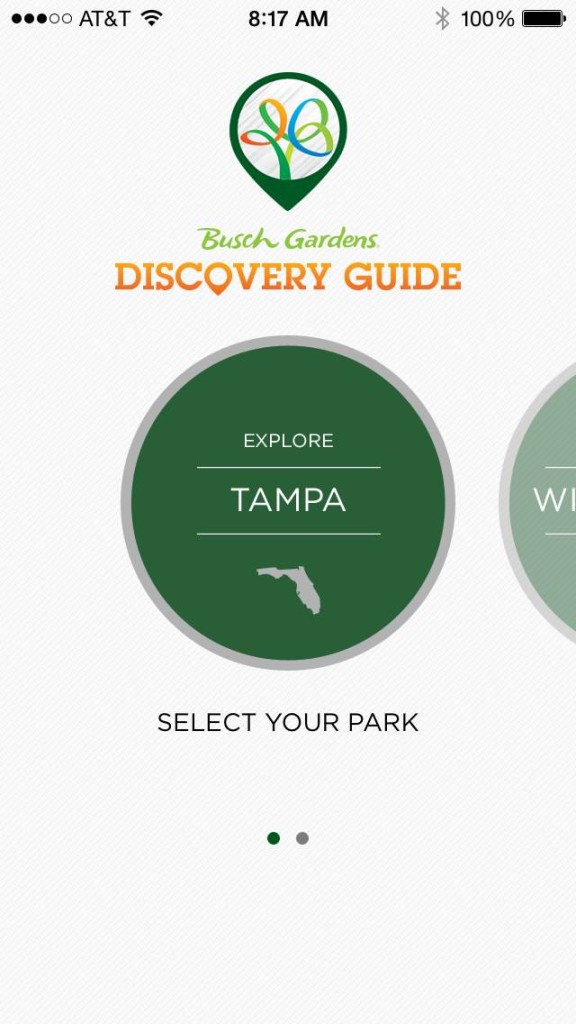 You can use the app to find your way through the park much like you would use a map.  The app will also let you see showtimes, dining and shopping options as well as habitat information and my two favorites: restroom facilities and a car locator!  When you are traveling with children, knowing where the closest restroom facility is a necessity.  Also, as I'm getting older, I sometimes can seem to remember where I've parked.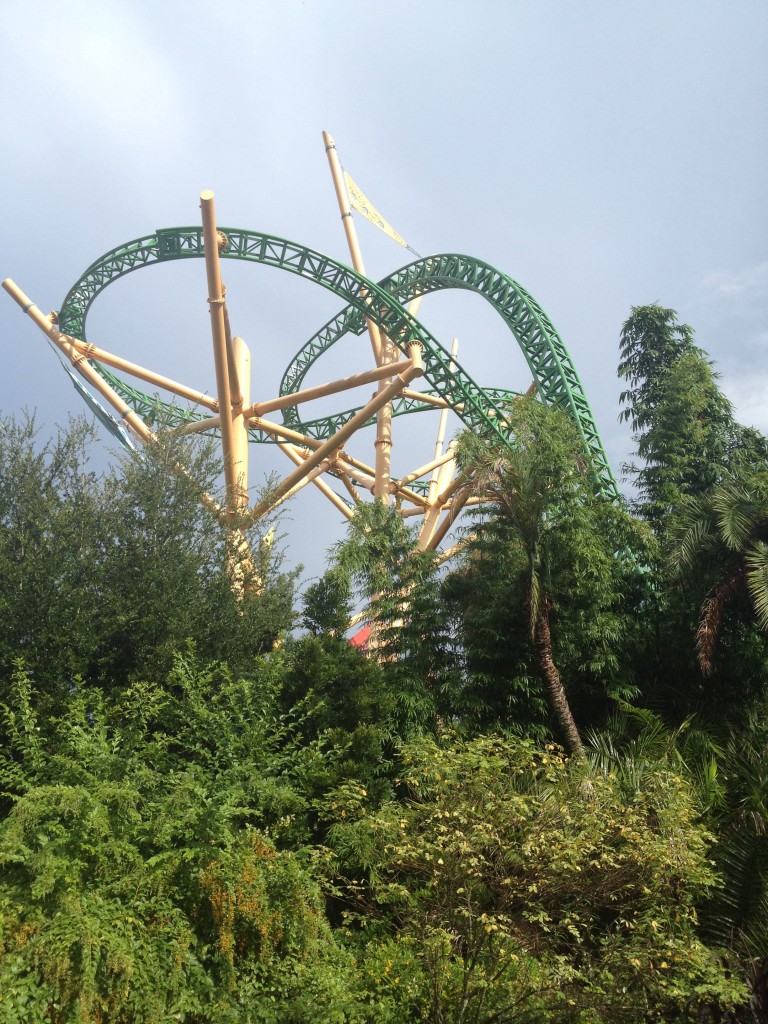 The girls were most excited about riding Cheetah Hunt, so we went straight to that ride as soon as we got in the park.  We were able to get in line and ride it without much waiting.  It's awesome to see that they have Quick Queue which allows you to reserve your spot in line without having to wait in line.
As we walked through the park I was surprised by all of the phone charging stations available.  There were cute little tables and chairs conveniently located for those of us who are always accustomed to carry their phone chargers.  On this visit, however, I did not carry my charger so I was a little bummed.   That is until I found this in Nairobi!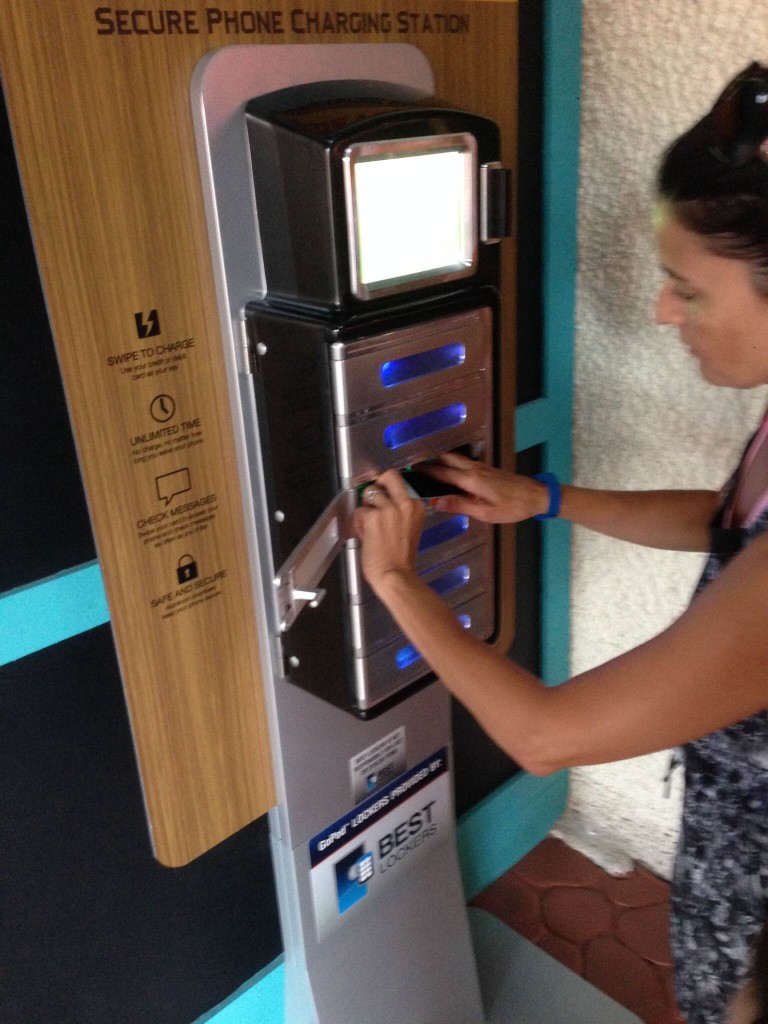 It's a locker for your phone! You can open it by swiping your credit card and inside there's a charger! Ta da! Problem solved.  I was able to charge my phone while we got a bite to eat.  Thank you, Busch Gardens!
As the day progressed, the rain kept coming until all rides where temporarily closed.  We continued through by taking little walking breaks under cover.  That's the great thing about Busch Gardens, even when it rains, you can still discover many hidden attractions.  Did you know Busch Gardens now has a Surgical Suite as part of their attractions?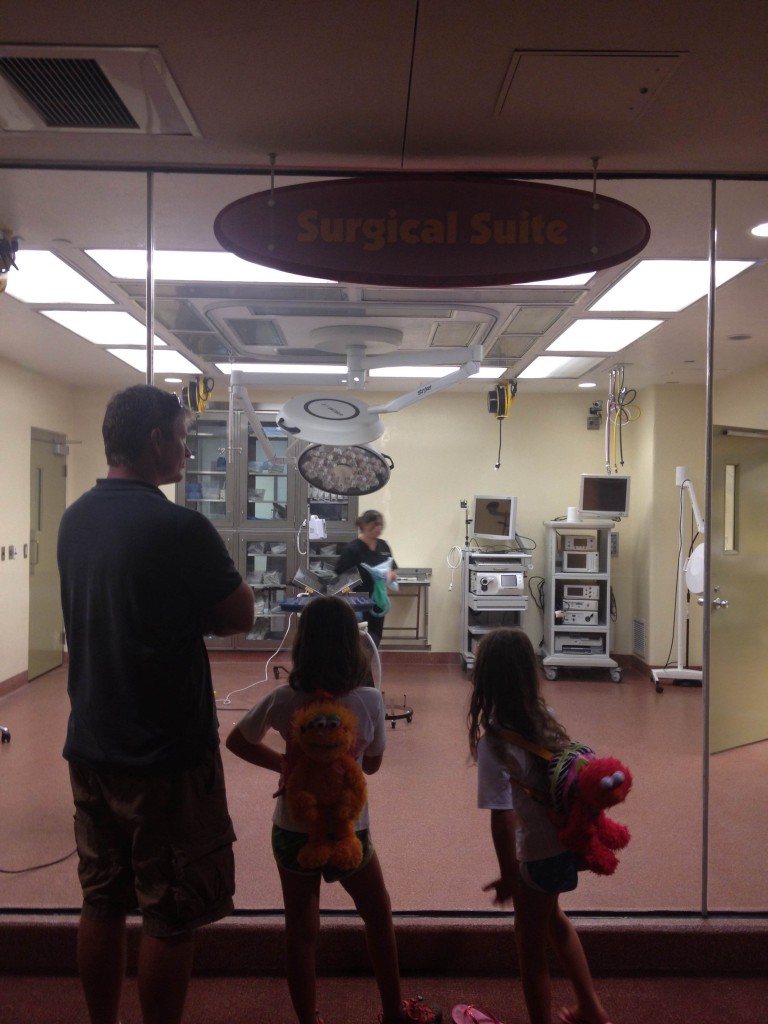 The Surgical Suite is right across from the Elephant habitat in the Animal Care Center.  Last time we were there, this part was under construction.  While we were there, they had just finished doing surgery on an anteater and they were getting ready to do surgery on a hawk!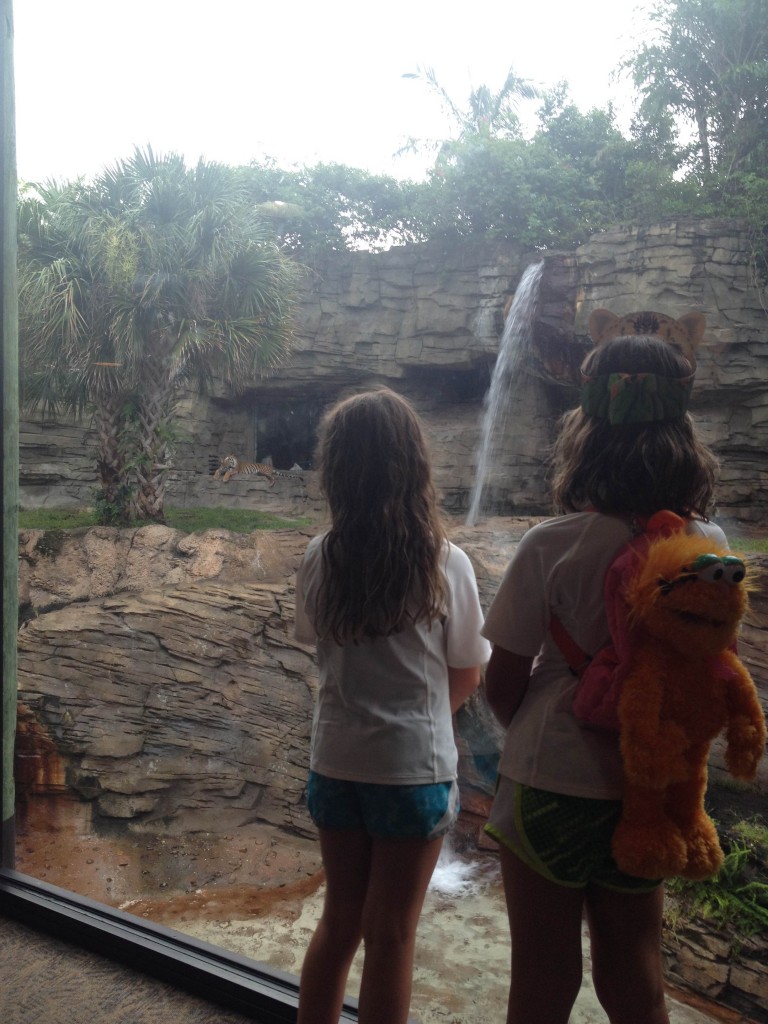 Another great spot to weather the rain is the tiger habitat.  We stayed there for a while watching the tigers.  After the tigers, we strolled down to Jungala to visit the Orangutans.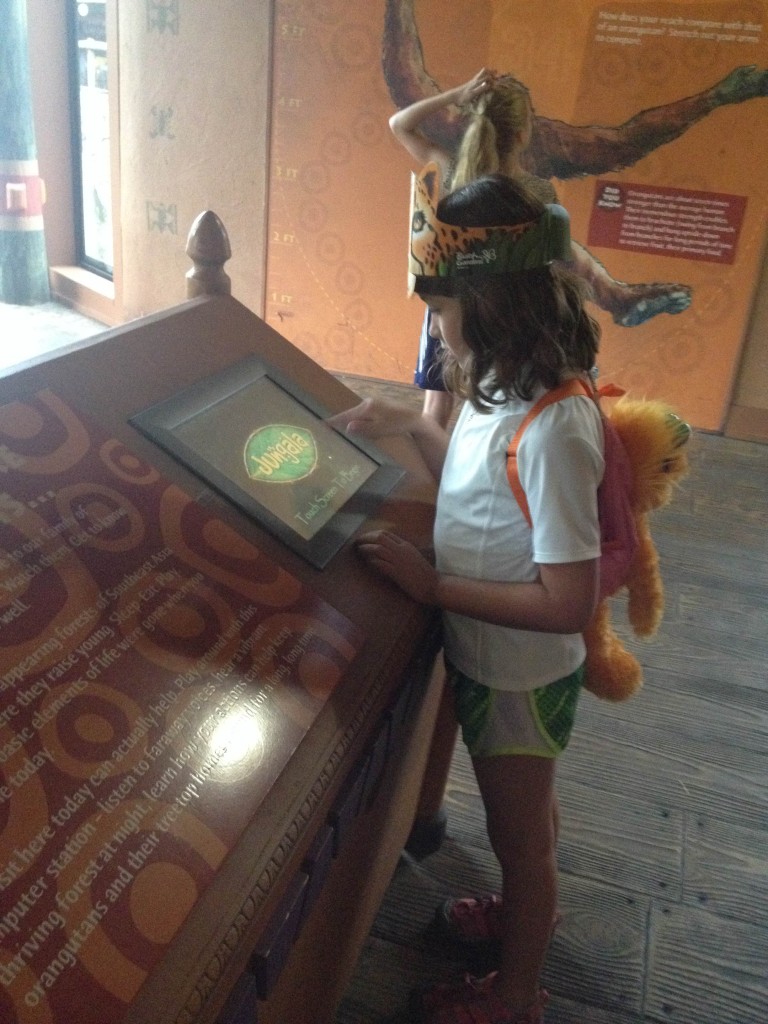 Give an interactive experience to my kids and they'll love you.  This one had a lot of fun looking for these "screens" throughout the park.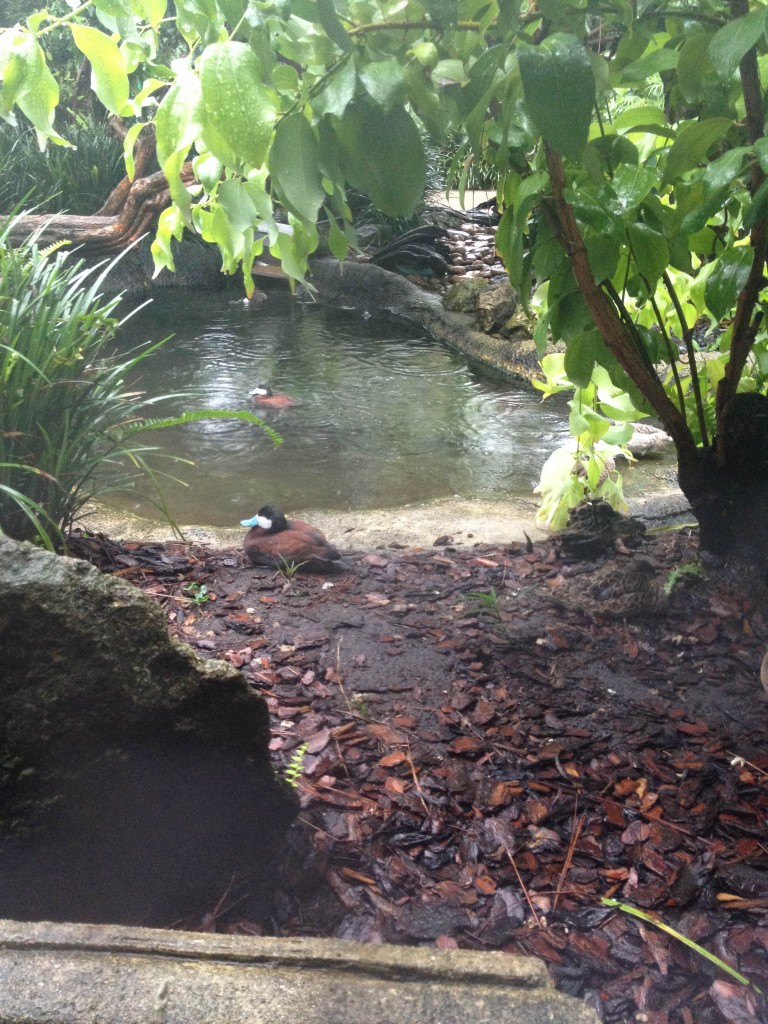 On our way out, we stopped by the aviary in the Bird Gardens section and spotted these little blue billed ducks.  I just love the color combination on them.  Although the rain prevented us from riding more rides, our visit to Busch Gardens was still great because of all of the learning possibilities this park offers.  While one my children fell asleep on the way home, the other one couldn't wait to get home and recreate the habitats she had just seen.
While playing with her, it was evident to me that all of those "interactive" play stations throughout the park really were teaching her about the animals at the park.  As a parent, I couldn't ask for more.  A fun day became a learning day!
When was the last time you visited Busch Gardens?
What's your favorite part of the park?