Last Saturday I ran the Red Ribbon Half Marathon in Lakeland. I had a vague idea of the course and some friends warned me about the hills. But really, how hilly could it be? This is Florida after all. Well, they weren't kidding. But before I get ahead of myself, here are my top five reasons to run this race.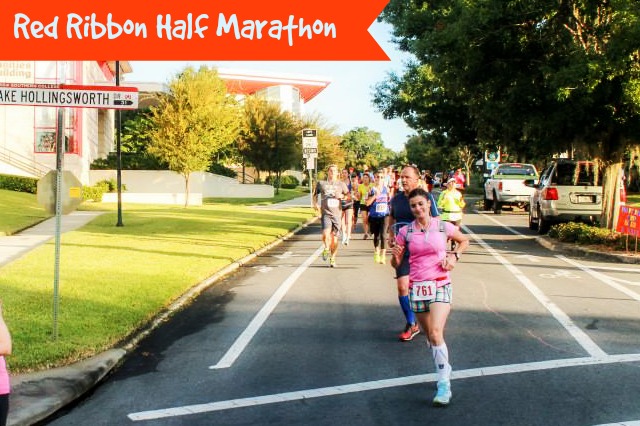 Beautiful Course: This course went through some of the most beautiful neighborhoods in Lakeland. Some of those houses could be on the cover of Better Homes and Gardens. I knew the homes around Lake Hollingsworth were beautiful, I just didn't realize how many more beautiful houses were outside of that area. In addition, we ran through the Florida Southern College Campus which was amazing as well.
Spectators: Throughout the entire course there were people cheering for us! I did not expect this at all. It was a great surprise especially since I went to the race by myself. So, people of Lakeland, Thank you! Oh, and to those kids handing out the icy paper towels at mile 11, THANK YOU!
Supplies: So thankful for all the volunteers offering both Gatorade and water throughout the course. Half way through they were handing out Gu packets. Yum. Later on, I saw some bananas too. And let's not forget the porta potties. Thank you!
Challenge: If you are looking for a race to test your stamina and endurance, this would be it. There was a very long and steady incline hill at around mile marker 4. But the worst was Success Hill and Massachusetts Avenue both at mile 11 and 12. Yes, there were two very big hills, for Florida, so close to the finish line. Talk about intense. Despite all the hills, I was somehow able to manage a new PR!
Fun: This was one of the most exciting courses I've done. I wasn't able to do early packet pickup so I was a little rushed in the morning picking up my bib, but once the race started all the nerves settle down and it was a very enjoyable experience.