I can't think of a better way to start 2015 than with a race in mind. Through my relationship with the Tampa Bay Bloggers, I was chosen to be a race ambassador for the Sarasota Half Marathon. And I could not be happier. The opportunity to run a beautiful course with a bunch of friends is something I will cherish forever. But enough about me, let's see why this is a race you should do too!
1. The Goods.All 2015 registered race participants will receive a premium, quality fitting, ultra-light running jacket in gender specific sizing (a $60 value!). All you have to do is register before the event sells out!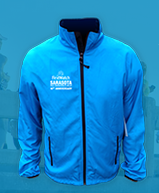 2. Medal. I know some of us pretend not to like the bling, but who are we kidding. The Sarasota Half Marathon is known for their larger than normal dolphin medal! Here's a picture from 2013.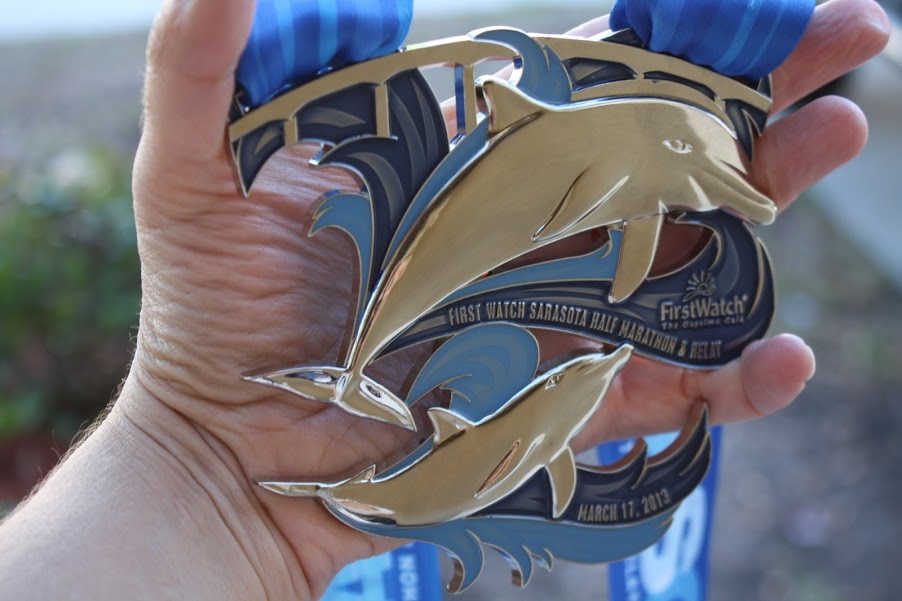 3. The grub. The Sarasota Half Marathon is sponsored by First Watch and Michelob. There will be gourmet breakfast items for all participants and free beer for those 21 and over. Again, my kind of race! I don't know about you, but after burning all of those calories I'm usually pretty starved.
4. Pace teams. If you are running by yourself, and are worried you won't make it, there's no need for that. There are pace teams who will keep you in check and help you reach your desired goal!
5. Challenge. A couple of years ago I ran the Iron Girl Half Marathon in Clearwater. The best and worst part of this race were the two bridges going across the intercoastal waters and on to the beach. I want another chance at that. The view from up there is amazing. And the feeling of accomplishment will be even more amazing once you've "conquered" the bridge.
Another reason to run it, is that you can do it as a Relay with a friend. So what's holding you up? Go check it out. 🙂