A while back I signed up for Influenster. Influenster is a community of people who regularly review products and share their experiences on social media. So far, it has been fun to try out new things.  The best part of Influenster? You get these fun surprise mail packages for free to test and/or review! So here is my review of the first VoxBox of 2015: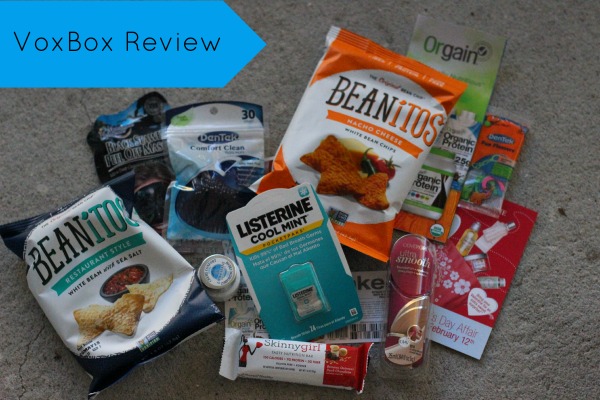 Beanitos: The Original Bean Snack. Seriously delicious. No joke. These "chips" are amazing. The Nacho cheese ones really tasted like Doritos without the "guilt". I found some recently at our local Big Lots store, so I made sure to stock up!
Cover Girl Ultra Smooth Foundation: The color I received was not a perfect match for my skin color. However, it felt like a BB cream which I loved. While the foundation felt very light, my face felt like I just put moisturizer on.
Skinnygirl: Let me first say, that this was the second time I tried one of the Skinnygirl nutrition bars. Luckily, this Banana Oatmeal Dark Chocolate was perfect for me. It was crunchy, not overly sweet with lots of chocolate.
L'Occitane Comforting Creme: So, I've always been a big fan of L'Occitane products. Just love the feeling of being "transported" into Paris every time I walk into one of their stores. Mind you, I haven't been to Paris yet, but in my head, it feels like Paris. Now, to the review. I really enjoyed this creme. Not only does it have a heavenly light scent, it did exactly what its supposed to. This has become my favorite night creme and I'm using it sparingly until I can get to the store to buy more!
Listerine: What can I see about these. They are great when you run out of gum. I remember when they had the cinnamon flavor ones. I wonder if they still have them.
Dentek: My husband is a big fan of these and surprisingly so are my kids. They really liked the cool designs and cheerful colors. Great to have in your bag for emergencies! I don't know about you, but getting food stuck between my teeth drives me crazy!
Orgain: I haven't been able to find the Orgain shakes so I can try them. From what I've read, they seem to have great ingredients, so hopefully they taste good.
Have you heard of Influenster?
Have you tried any of these products?