A few weeks ago I found out about Disney's Star Wars The Dark Side Half Marathon. While pondering whether I should run it, I realized I didn't run a half marathon distance, or any distance for that matter in 2015. Coupled that with the fact that this Star Wars half marathon is an inaugural race for Disney, I couldn't say no.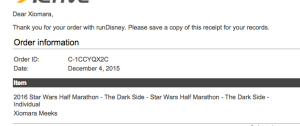 Thanks to the evening soccer practices, I've been running pretty consistently for the past couple of months. And now with the #HolidaySweat challenge from @FitApproach and @RuntotheFinish, my running has become a habit like it used to be a long, long, long, time ago. 😉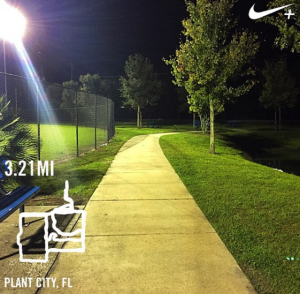 This will be my second Disney race, but it will be my fifth time running a half marathon. All along, I've always used the nike+ app to keep track of my training. Not only does it have the option to set up a Training Plan, but it also allows you to keep track on how many miles you put on your shoes while training.
Finding the right training plan:
You can find other great training plans online. Keep in mind everything is adjustable. You should be able to modify a training plan to fit your schedule and needs. One thing to remember as you train for a half marathon is to make sure you do get your "long runs" in. Long runs are important for your endurance training. Here are some training plan suggestions for you:
Jeff Galloway Disney Training Plan
Finding the right running shoe:
Look for a locally owned running store in your town or city. They will usually have a treadmill and special equipment to figure out what shoes are the most beneficial for your own specific stride. Trust me. It might feel weird to run in the store, but your feet will thank you later when you have the right support. Read more about it here.
Nutrition:
While training for a half marathon be prepared to drink more fluids and eat more food. You'll be thirsty and hungry. No way around it. Here are some of my favorite products to keep around to refuel and rehydrate.
I'd love to hear about your training tips! Leave a comment and tell me your tried and true methods.