Today I'm sharing with you some of our family's Best Eats from 2016. 2016 took us to Puerto Rico, New York City and the Bahamas. Below you'll find our best meals/snacks from 2016. Here's our list of best eats for 2016.
January 2016
We started the year with an impromptu trip to Puerto Rico.  Going home means fruit flavored ice cream cones,fresh seafood and fresh coconut water. While visiting my dad, he offered me some coconut water. Sure, I responded. Little did I know, he was about to cut up a coconut with heavy machinery!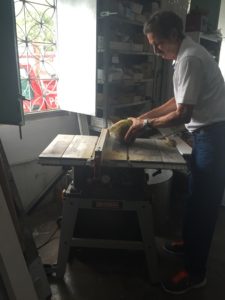 For dinner we enjoyed a very typical Puerto Rican dish: mofongo. Mofongo is fried plantain mashed together into a little mountain. Usually the little mountain of goodness is topped with meat, pork, or seafood. This time around I chose pulpo (octopus).  When cooked properly, octopus is very mild and tender, similarly to conch or calamari. Delicious.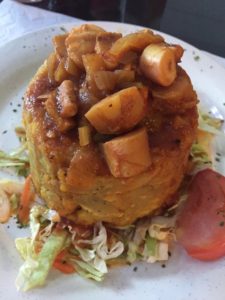 February 2016
In downtown Tampa, hidden by some trees you can find Fusion Bowl on Kennedy Ave. They offer a great menu of teas, muddled berries tea, coffee, dessert, breakfast, salads, appetizers, rice dishes, pho soup, bun bowl, udon and Banh mi. This time around I chose a Vietnamese coffee and the chicken teriyaki. It was so good, I came back that same day and picked up dinner to go.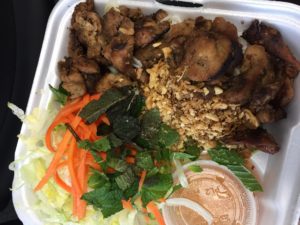 Another great lunch spot find, is La Flor de España located on Post Ave in Winter Haven Fl. This delicious spot is filled with flavorful meal choices and sweet desserts. If I'm ever in the Winter Haven area or just passing through, I make a point to stop by. Their prices are super affordable and the food does not disappoint. Finding bacalao or codfish is something I always look for because I have yet to master cooking it.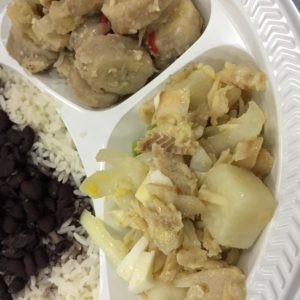 March 2016
Below is a picture my husband sent me after receiving a few pallets of fresh picked strawberries. While these berries may look funny, they were deliciously sweet. We enjoyed these just as a snack or as a compliment to any meal!
In March we returned to Puerto Rico for a few days during Spring Break. And yes, I had some more coconut ice cream and as much pulpo (octopus) as I could get my hands on! In case you are wondering, I had to share my cup with that little girl right there. Yep, she likes it. 🙂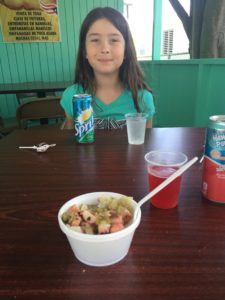 April 2016
April 2016 brought Pineapple Dole Whip to the market. Oh my. In an effort to find a strawberry soft serve that actually tastes like strawberries, we hit the jackpot with the pineapple Dole Whip. If you like pineapple and you've never had it, please come by the market this summer. You will not be disappointed.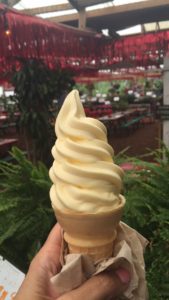 May 2016
Going to the Omni at Champions Gate for Memorial Weekend has become sort of a family tradition. 2016 was no different. Enjoying a nice meal at one of the resort's restaurant while the kids attend Camp Omni makes everyone in this family happy! The best parts is the s'mores by the fire pit after dinner!

July 2016
A visit to Central Florida, brought us to Sanford where we met my mom at the Smiling Bison. This quaint little downtown are is full of yummy restaurants and cute shops. You can easily spend an afternoon there and end up staying for dinner and drinks. A quick trip to NYC and a girls lunch date rounded up three wonderful meals in July.

August to December 2016
So, we moved in August! From August to Halloween we focused on our house. Getting the girls' rooms ready and finding new family room and dining room furniture. In November we went to Epcot's Food and Wine but I didn't take one picture of food the whole time we were there! Instead, we enjoyed time with the girls and our friends from South Florida. In December we focused on my daughter's birthday and family events. Not to say that there weren't a few outings in between for tacos, donuts or such.
I hope you enjoyed looking through my food pictures as much as I did. Here's to 2017, good food, great friends and wonderful adventures!